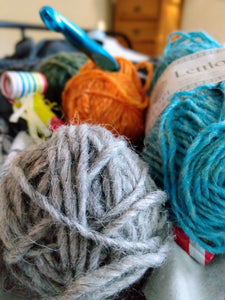 Wednesdays July 26th & Aug 2nd 2pm-4pm at Shiny Squirrel Art Studio (1111 Burlington Ave, Suite 101, Lisle, IL)
Advanced Beginner Level (must know chain stitch and single crochet)
Come and expand your crochet knowledge with our new market bag class.  You will perfect your chain, single crochet and learn half double crochet, and double crochet stitches.  This bag is perfect for the farmer's market and the beach.  It is two sessions with homework.  
Class fee is $49 for instruction only and you will need to bring the following:
WHAT TO BRING:
You need three colors of linen yarn in DK (light) weight.
Color A 250 yards,
Color B 75 yards
Color C 435 yards.
You will need a six E/3.5 Crochet Hook.
Students will need to attend 2 sessions: Wednesday, July 26th 2pm-4pm and then Wednesday, Aug 2nd 2pm-4pm

Be prepared to work on your bag in-between sessions, as that will help you greatly.  Not working on your bag between sessions typically results in the need for additional sessions, which are at private session rates (or additional session time can be obtained by purchasing and attending a Tuesday drop-in group session at 10am-noon and/or 6:30pm-8:30pm). You can contact us for additional information.
Photo Waiver Policy: By registering for this class you agree to allow Shiny Squirrel Art Studio to take and use your digital image for use in marketing materials such as social media posts, brochures, etc.
Cancellation Policy: There are no refunds for this class if you miss one or both of the sessions.  If cancellation notice is provided at least 48 hours prior to event, student may attend a future Beginner Knitting class in which seats are available.
Contact: ShinySquirrelArt@gmail.com
Crochet class near me
Beginner Crochet