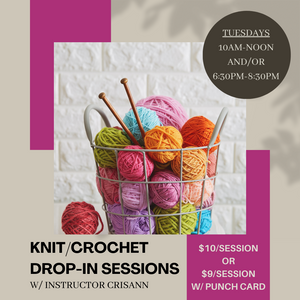 Are you a knitter/crocheter who would love to knit/crochet with other knitters/crocheters AND have a knitting/crocheter expert on hand in case you need assistance on your latest project?
Shiny Squirrel Art Studio in downtown Lisle offers weekly Tuesday knitting sessions where you can drop in as much or as little as you like for $10/session ($9 with pre-paid punch card).  Morning sessions are every Tuesday 10am-noon and evening sessions are every Tuesday 6:30pm-8:30pm.
This is a friendly bunch of ladies who have been knitting and crocheting together for quite some time and we are always impressed with how warmly they welcome new knitters and keep them feeling welcomed!
Instructor Crisann Hillier is always in attendance and always willing and able to help folks out when they get stuck or just have questions.  She has been teaching Knit and Crochet for over 17 years in local yarn shops, has had her own line of knitwear., and her designs were featured in local fashion shows.  

Crisann has a great passion for teaching and design work which includes pattern editing and test knits  for designers across the country.   In addition she is involved in focus groups in the yarn industry.
Punch Cards: Available in-store
Location: 
Shiny Squirrel Art Studio, 1111 Burlington Avenue, Suite 101, Lisle, IL 60532 (building at SW corner of Main and Burlington in downtown Lisle)
Parking: Free parking right out front
Contact: ShinySquirrelArt@gmail.com